Curriculum Based Animated Tutorial Videos & Interactive Games
MiDas eCLASS - Student Edition for students is a Student Oriented Based Package that contains curriculum based animated videos and interactive audiovisual games for learning. It can be used by learners anywhere and anytime provided that they have the necessary equipment e.g. computer, laptop, tablet or mobile phone with minimum specification.
MiDas eCLASS - Student Edition is available in DVD. In DVD, you will find software to run on Computer. You will also find Apps to run on Tablet and Smartphone (Windows and Android). MiDas eCLASS DVD are available in Book, Computer and Mobile shops.
You can also purchase and download MiDas eCLASS - Student Edition from this website.
For Android Tablet and Smartphone, you can also purchase and download MiDas eCLASS - Student Edition from Google Play Store. (Please search for "MiDas eCLASS" on Google Play Store.)
There are numerous advantages by which students can achieve higher goals in future. MiDas eCLASS provides a stepwise learning process through planning. It also brings abstract and difficult curriculum concepts to ease of learning concepts inside classrooms. MiDas eCLASS makes learning an exciting and fun-filled experience for students. Despite using MiDAS eCLASS in classroom, students can also use it as a study medium at home on Desktops, Laptops, Android Tablet PCs or Mobile Phones.
Our software enables an easy and quick help for students in classroom. Nevertheless, the animated content also enhances academic cognition and performance of students. The possibilities are endless for a student to learn through MiDas eCLASS and we have added platforms where they can enjoy their study and learn at the same time.
Learn On Computers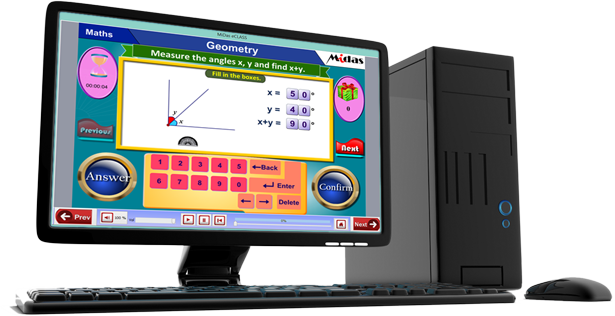 Our MiDas eCLASS - Student Edition library contains all the animated videos and interactive games that are installed on the desktop or laptop and students can study from MiDas eCLASS software anytime and as many times they want. Interactive learning would be a click away from student who possess a Desktop & Laptop Computers. Read More...
Learn on Tablets & Smart Phones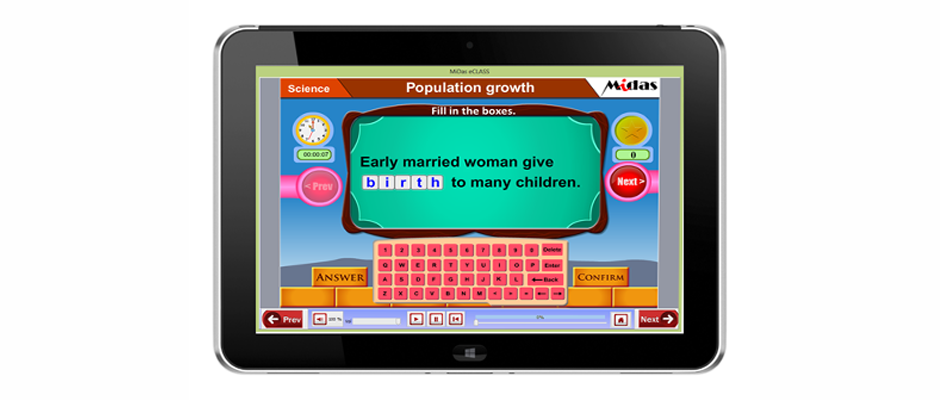 MiDas eCLASS - Student Edition can now be installed and accessed thereafter. We have developed an app for portable Android tablets and Smartphones.Read More...